Marble Tableware Collection
Marble
2021-2022
in process
The design collection will be exhibited as part of the
CHINA SHUITOU INTERNATIONAL STONE FAIR (posponed from 26th DEC. to unknown)
Bird candle holder
145 x 115 x 110HTwo geometric sphere forms an abstract image of bird. The upper sphere is cut for tealight, and the low sphere is cut for placing the candle holder. "bird neck" as a narrow part to be hold by hand easily.
两个圆球的简单穿插形成一个憨态可掬的抽象小鸟形态,将承托蜡烛的石台悬浮在空中。蜡烛槽两个不同深度分别为直径4cm和直径6cm,可放置最常见的两种圆形蜡烛。浑圆的体量感既实用又可观赏,鸟颈处作为手持的位置方便移动。
Geometric bookend
120 x 175 x 190H;120 x 175 x 126HCone and sphere are two of most common Euclid form. With its own beauty of mathematics, they are simple but timeless. The design has cut 1-2 part of the original shape and made them "hide" into the book. It present the beauty of still life in familarity and flaw. The asymmetric placement brings a lively elevation to the bookshelf.
圆锥与球体是最常见的欧几米的形态之一,因为其本身具有的数学之美,虽然常见却永不过时。该设计简单去掉了这两种几何形体的1-2个边角,使几何形态在视觉上好像被"藏"进了书里,呈现出一种既熟悉又有些缺憾的静物美,左右不对称的放置也使书架的"构图"更为活泼。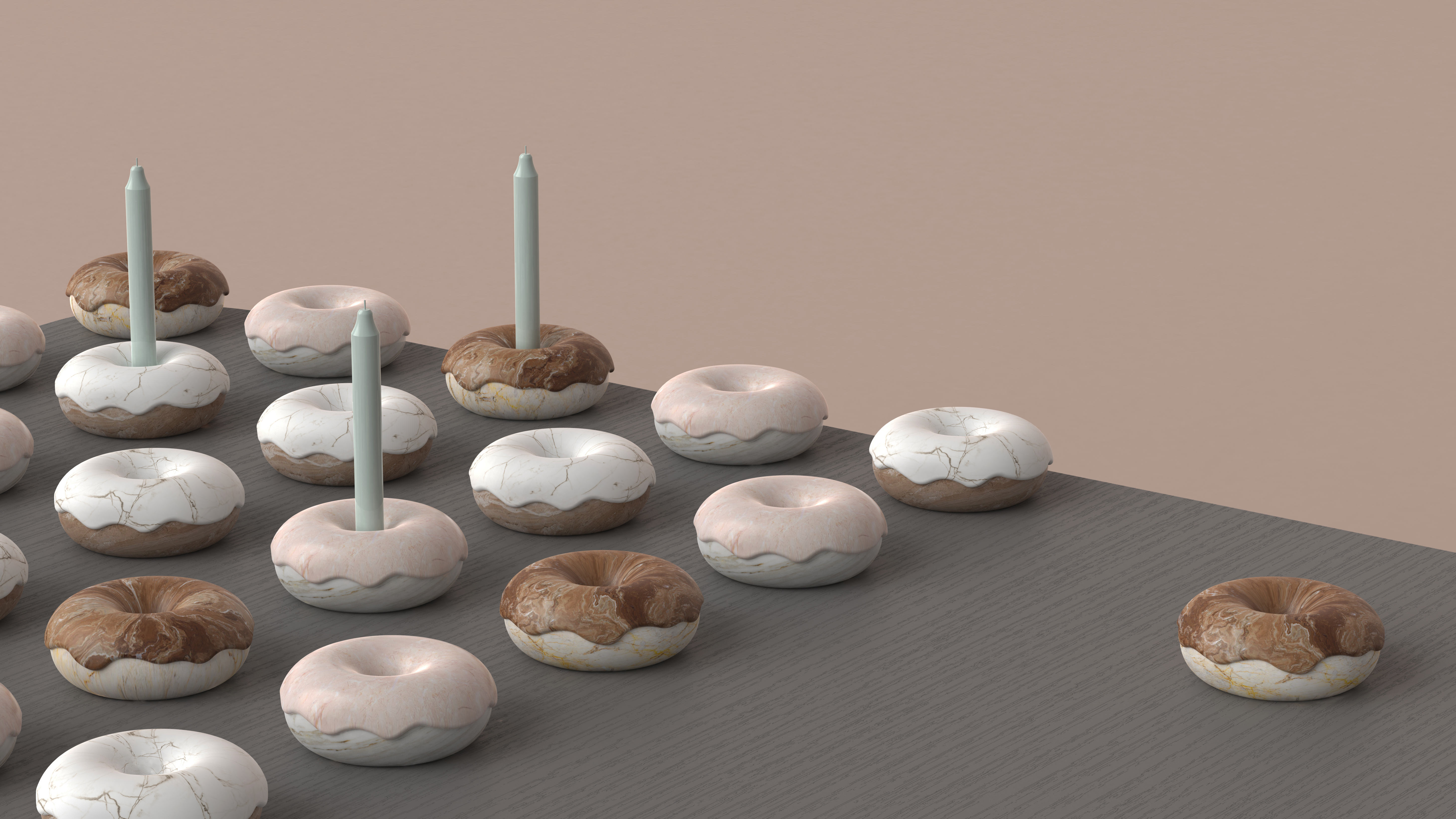 Donut candle holder
D140 x 60HMarble has its unique natual texture and color. The donut embraces the cold and hard material as well as the sweet and soft visual form. The curvy shape reflect the texture of marble nicely.
该设计利用大理石抛光后质感光滑圆润,色彩丰富的材质特征,赋予甜甜圈的形态以产生触感上冰冷坚硬和视觉上柔软甜美的对比,甜甜圈的中孔成为天然的烛台形式,各处转折弧线也能很好折射出大理石的质感,外形亦十分友好亲近。